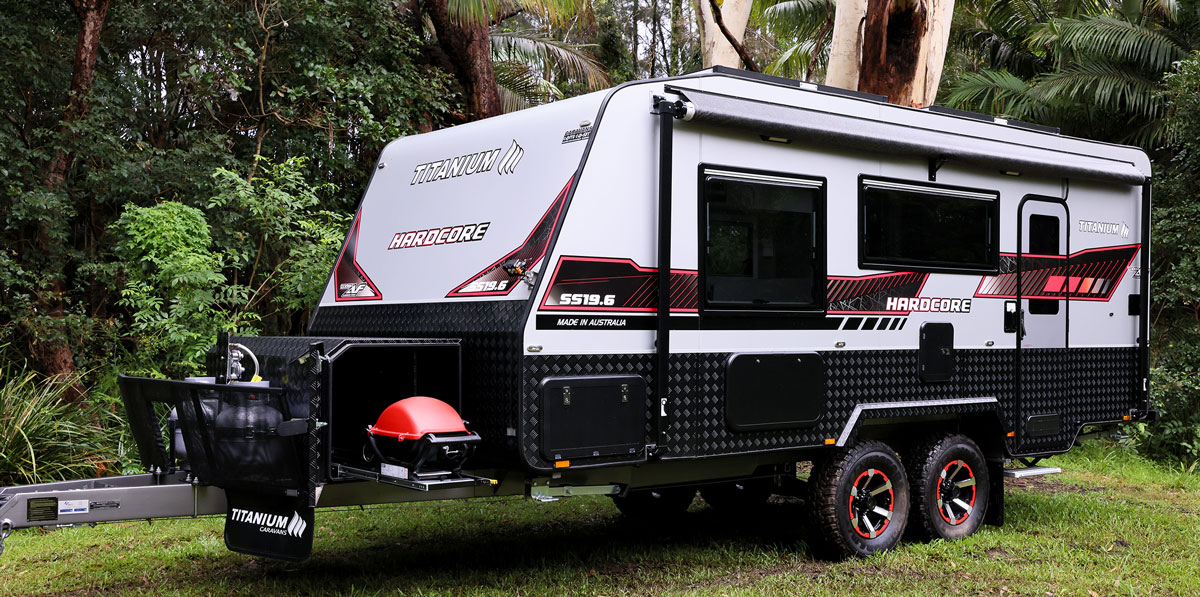 SS19.6 Hardcore 2022 Features:
Tough Aluminium Wall Frames (No Timber Rot)

Composite 3mm Premium RV Cladding (Hail Resistant*)

One Piece Composite Insulated Roof (Hail Resistant*)

Off-Road 3700kg Cruisemaster XT Independent Suspension

12 Inch Off-Road Brakes & Dual Shock Absorbers

DO 35 Off-Road Hitch, 16" Off Road Tyres & Alloy Wheels

Heavy Duty 8" Chassis Includes a 4" Chassis Raiser

Extended 6" A Frame with Front Stone Guard with Mud Flaps

95ltr Grey Water tank, 2x 85ltr POLY Fresh Water

Huge Front Toolbox with BBQ Slide Out & Generator Slide Out

CNC Interlocking Furniture with lightweight doors & gas struts

Enerdrive 40 amp 240v Charger & 40amp DC-DC Charger

510w Solar = 3x 170 w Panels

1x 200amp Enerdrive Lithium Battery

Jerry Can Holder & Front Adjustable Work Light

True Reverse Cycle Airconditioner & 12v Sirocco Fan

Large Tropical rated 12v Fridge - Fridge / Freezer

Unlimited Options & Colours Available

Available in Single Bed Layout to Order
SS19.6 Hardcore Weights
Tare: 2650kg ATM: 3500kg
Unladen Ball: 140-160kg Payload: 850kg
All weights are approx. & shall vary with Layouts & Inclusions.
The
Titanium SS19.6 Hardcore Off-Road Caravan
is hard to beat with a tough Aluminium Frame, Composite Roof, Cruisemaster XT Independent Suspension, Enerdrive Lithium Battery System, 510w Solar System and so much more. Interior features include a Full Ensuite, Washing Machine, RV Queen bed with pillow top mattress.
The Titanium Hardcore Caravan is a purpose built Heavy Duty Caravan for people with Hardcore Travel and Outback Adventure on the top of their wish list !
Titanium Caravans back their Products 100% & Offer a 5 year Structural Warranty and a 2 Year Factory Warranty.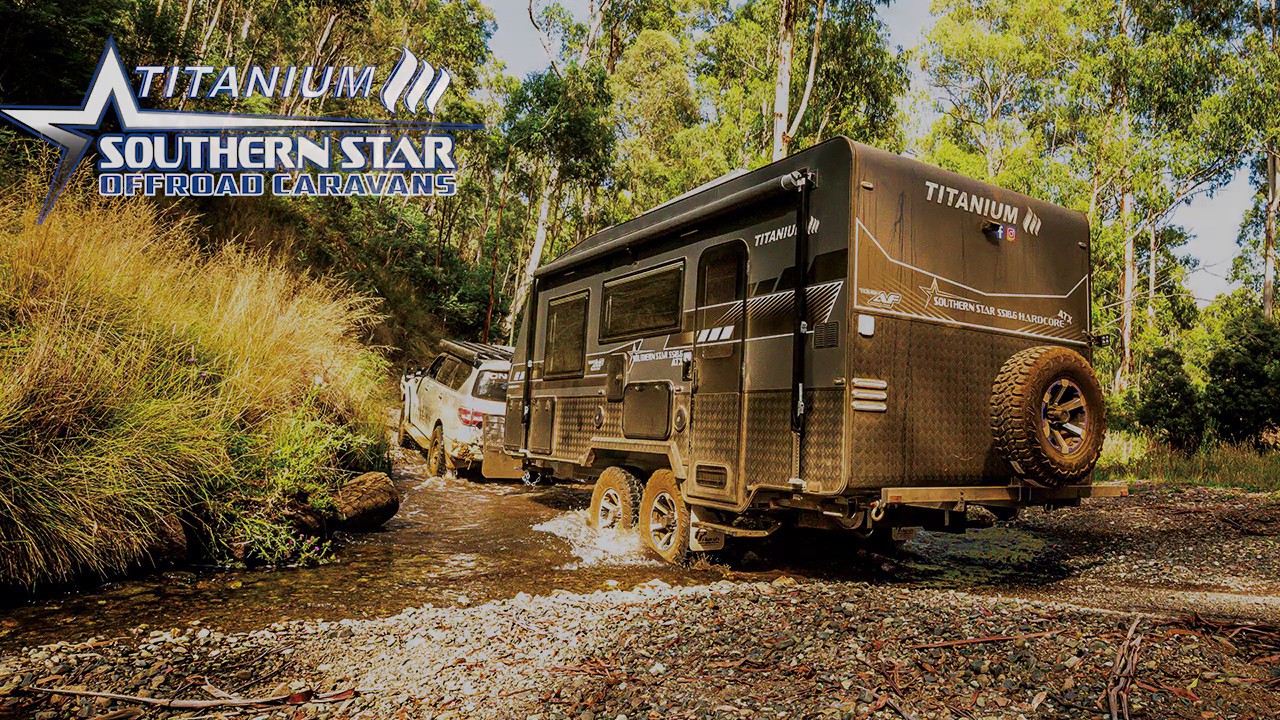 *Composite RV Premium Cladding & Composite Fibreglass Roof are hail resistant not hail proof, large jagged hail may cause damage.
Weber BBQ, Bike, Woodbox & Recovery Tracks shown are an Optional Extra.
Inclusions are accurate for hardcore models ordered & delivered in 2022, Inclusions & Specifications can be changed due to manufacturing requirements.