hardcore OFFRoad caravans
Are you ready to go HARDCORE? The Adventure starts here!!
Are you an adventure seeker looking for an off-road caravan that can withstand the roughest roads Australia has to offer? Yes definitely, Caravan Coffs Coast has the perfect solution for you – the Titanium SS Hardcore Caravan Series.
The Titanium SS Hardcore Caravan is purpose-built to withstand extended off road travel and outback free camping. The SS Hardcore Caravan is the ultimate explorer.
Best Off-road Caravans in Australia
We only offer the best, we do not compromise with the Titanium SS Hardcore Caravan Series, the Southern Star Hardcore Caravan is fully personalized and designed with you to suit your needs and budget. Titanium Caravans use the latest Industry leading technology that guarantee's superior build quality, maximum strength and safety.
Embrace your off-road adventure and outback journey with all these leading features:
All the Southern Star Hardcore caravans are constructed on a heavy-duty F&P Chassis, this includes a chassis raiser setup for better ground clearance outback. As seen in all our amazing customer photos the Australian made F&P Chassis is specifically designed to withstand our harshest conditions!
We ultimately trust the robust design of the Cruisemaster XT Offroad Independent Suspension with Dual Shock Absorbers to handle the huge task of a smoother ride on corrugated roads and outback travel. Vehicle Components who build Cruisemaster suspensions leads the Industry with years of off-road research and testing.
The Titanium SS Hardcore has evolved over the years into a proven Outback Caravan, purpose built using a unique construction which includes an Aluminium Wall Frame and a one piece insulated composite roof, together with a tough 3mm composite external cladding provides the core strength needed in an Off-road Caravan.
Off-road Articulating DO35 Coupling Hitch
Forged with top-quality materials, the Cruisemaster DO35 hitch is designed with high articulation that ensures the caravan always heeds your direction in rough and challenging trails. The DO35 V3 hitch system is the strongest hitch ever made by Cruisemaster and features a simple positive locking mechanism that offers an added layer of safety on the road.
Quality Alloy Wheels and Off Road Tyres
Be adventure ready anytime, anywhere with a Titanium Southern Star Hardcore Caravan, we use an Off-road MT tyre which has a larger & wider tread pattern with a thicker side wall more suited for outback travel. You can also upgrade to your choice of Off-road tyre such as the Coopers, BF Goodrich or Mickey Thompson.
Lithium Power: Never be in the dark
The 200amp Enerdrive Lithium battery setup with the Enerdrive 40amp DC-DC charger and up to 510w Solar system will maintain the battery whilst you are travelling and enjoying the Outback. The 12v battery system also includes a Enerdrive 40amp 240v Battery Charger for fast charging on a generator whilst camping out off the grid.
For Outdoor Barbies and More
A good camping experience is always made better in the tranquility of the outdoors with a barbie and a couple beers. One of our most popular features is the Weber BBQ slide out. Our huge front toolbox has a Generator storage slide out tray and a Weber Baby Q storage slide out tray. Cooking a roast or a tasty steak with your family and friends while camping is now made easy with our unique toolbox slide out system. Enjoy your BBQ feast, then be able to simply lock the BBQ away in the toolbox safely overnight.
Off-Road Caravans for Sale @ Hardcore Central
Everything you need to live comfortably in the Outback is within your reach. Your next adventure starts at Caravan Coffs Coast known as Hardcore Central, our hardcore off-road caravan range is available in a variety of sizes - starting at 16.6 ft Single Axle Body to the luxurious 21.6ft club lounge model.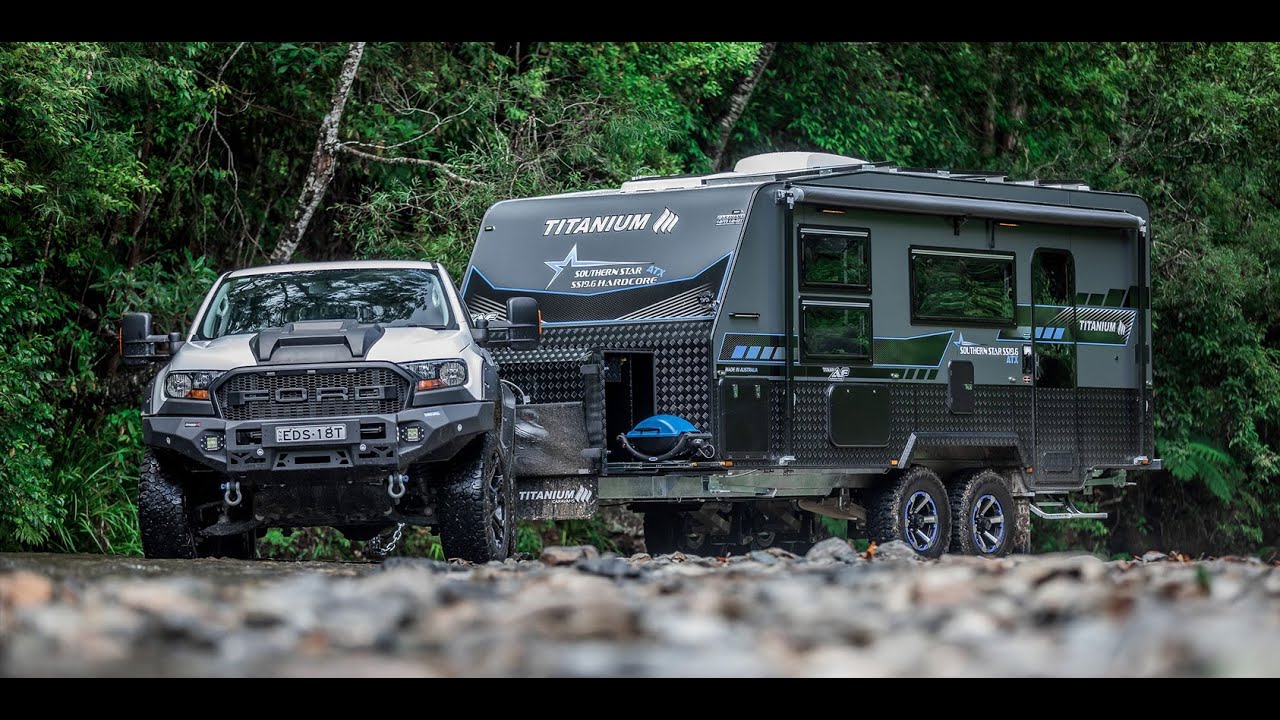 Titanium Caravans are a Melbourne based, Family Owned & Operated Caravan Company building Southern Star & Sunseeker.