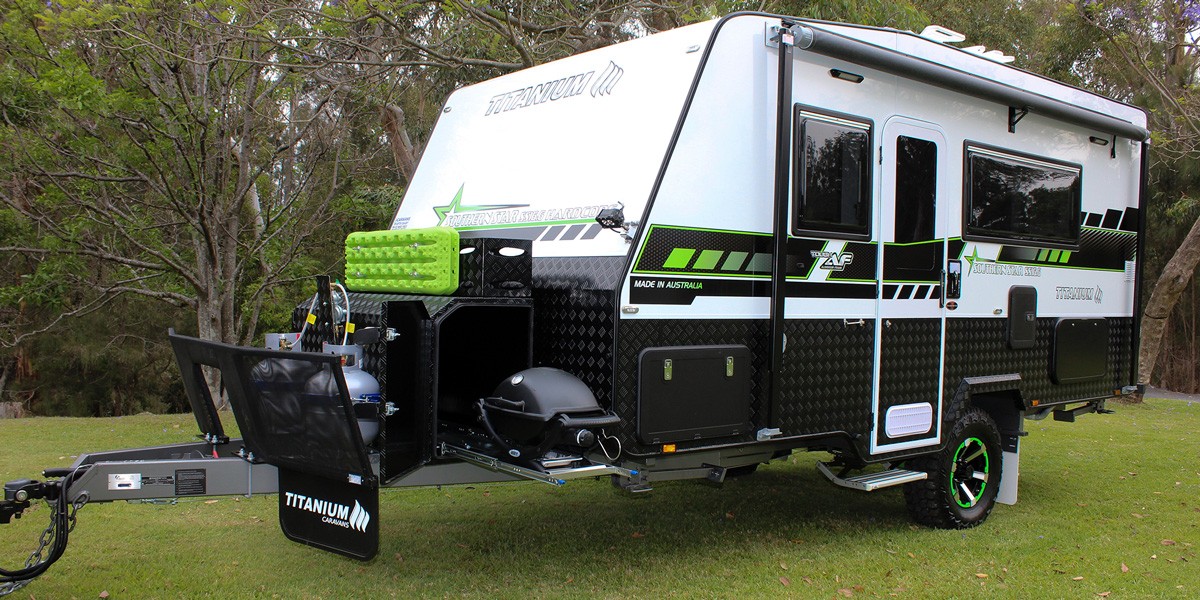 SS16.6 Hardcore 2022 Features:
Tough Aluminium Wall Frames (No Timber Rot)

Composite 3mm Premium RV Cladding (Hail Resistant*)

One Piece Composite Insulated Roof (Hail Resistant*)

Off Road Cruisemaster XT Independent Suspension

12 Inch Off-Road Brakes & Dual Shock Absorbers

DO35 Off-Road Hitch, 16" Off Road Tyres & Alloy Wheels

HD 8" Chassis Includes a 4" Chassis Raiser

Extended 6" A Frame with Front Stone Guard with Mud Flaps

CNC interlocking Furniture with Lighteight Doors & Gas Struts

95ltr Grey Water tank, 2x 85ltr POLY Fresh Water

Huge Front Toolbox with Weber Slideout & Generator Slideout

Enerdrive 40A DC-DC Charger & Enerdrive 40A 240v Charger

3x 170 w Solar Panels & 1x 200amp Enerdrive Lithium Battery

Jerry Can Holder & Front Adjustable Work Light

True Reverse Cycle Airconditioner & 12v Sirocco Fan

Tropical rated 12v Fridge - Fridge / Freezer

Order with your choice of colours - Internal & External, Decals, etc
SS16.6 Hardcore Weights
Tare: 2250kg ATM: 2800kg
Unladen Ball: 140-170kg Payload: 550kg
All weights are approx. & shall vary with Layouts & Inclusions.
Hardcore Small Off-Road Caravan
Caravan Coffs Coast has a range of hardcore small off-road caravans. Caravans Coffs Coast has seen a trend towards small lightweight off-road caravans in the past few years, a lot of people are looking for a small caravan to take into camp spots unattainable by large oversize caravans, we have designed a unique small off-road caravan which offers a lot of great benefits including an island bed with a full ensuite and washing machine.
Lightweight & Cost-Effective
Who says you have to compromise quality and features with a small off-road caravan? This means you don't have to sacrifice comfort and convenience by choosing a small off-road caravan. Since it's more lightweight and compact than a larger caravan, a smaller off-road caravan will also be more economical on fuel consumption per km and can be more stable while towing on the road.
Premium Quality - Titanium Caravan Range
The Titanium SS16.6 Hardcore Small Off-Road Caravan is purpose-built with our unique 16ft design, rear door with a full Ensuite and for your comfort, it also has a premium pillow top Island Queen RV bed.
The Titanium SS16.6 Hardcore model is built super tough but lightweight. The aluminium frame, Australian built Cruisemaster XT Independent Suspension with dual shockers, and a Enerdrive lithium battery system offers total convenience while travelling outdoors and free camping in the outback. Voted Australia's best small Off-road caravan by our many happy customers.
What's more? It comes with a composite roof, premium composite cladding and Australian-build 8" chassis includes a 4" chassis raiser for greater ground clearance. All these features allow you to travel through the country's roughest roads and toughest conditions.
Feel at home with its exceptional interior features which include a full ensuite, washing machine and comfy cafe lounge, you also have the ability to choose all your internal colors.
This SS16.6 Hardcore small off-road caravan gives you all the premium features you will need to turn your dream Outback Adventure into a reality, contact our friendly sales staff about the Titanium SS16.6 Hardcore Small Off-Road Caravan for more info today!
With quality made to last, Titanium Caravans back their products 100%. They offer a 5-year structural warranty and a 2-year factory warranty.
What to know more about this model? Fill out the form below for more info..
*Composite RV Premium Cladding & Composite Fibreglass Roof are hail resistant not hail proof, large jagged hail may cause damage. Weber BBQ, Bike, Woodbox & Recovery Tracks shown are an Optional Extra. Inclusions are accurate for hardcore models ordered in 2022, Inclusions & Specifications can be changed due to manufacturing requirements.
Are you ready to go Hardcore?